Residents believe changes necessary to put region on path to prosperity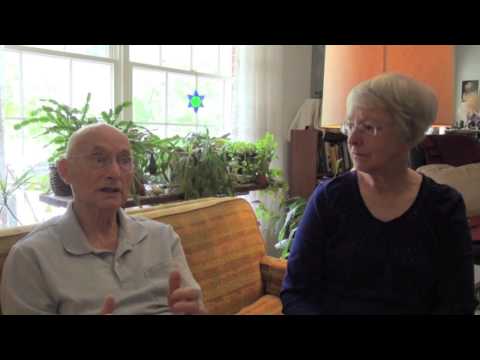 INEZ, Ky. — Retired journalist Lee Mueller was a young newspaper reporter when the Ashland Daily Independent assigned him to cover President Lyndon B. Johnson's 1964 trip to Inez, in Martin County. He was a natural choice for the assignment: Having grown up in the nearby Martin County hamlet of Tomahawk, he not only possessed a flair for words, he could also operate the Crown Graphic camera the paper provided him.
From that perspective, Mueller concedes that the War on Poverty that resulted from Johnson's trip to Inez and other impoverished areas brought many positive changes. A county which only had one paved road in 1964 now has an entire system of blacktop roads, including two, soon to be three, four-lane highways. The county now has modern water and sewer systems to replace wells and outhouses.
Still, when he looks at life in Martin County today, Mueller cannot help but think something went wrong in government efforts to raise an entire region out of poverty. He sees it in the children, or lack thereof.
"It's like, Inez as a town was still full of children," Mueller recalls. "Now, there's no children left, hardly. I mean, hardly any children left."
Good intentions, misplaced priorities and missed opportunities
Mueller is like many residents of Central Appalachia, who to varying degrees see the nearly half-century War on Poverty in Appalachia as a history of good intentions, misplaced priorities and missed opportunities. They believe development efforts have often fallen short, because leaders have sought quick solutions, rather than slow, steady and consistent progress.
The War on Poverty in Appalachia began as a response to chronically high rates of poverty in the region. According to the Appalachian Regional Commission, when the agency was created in 1965, the region had more than a third of its population living below the poverty level. In his remarks when signing the Appalachia Bill, President Johnson noted that although annual per capita income had reached $2,300 across the nation in 1965, in Appalachia, it was $1,400, or 61 percent of the national average.
"The bill that I will now sign will work no miracles overnight," Johnson warned at the time. "Whether it works at all depends not upon the federal government alone but the states and the local governments as well."
Nearly a half-century later, ARC lauds its achievement of bringing poverty in the region — which includes all of West Virginia and portions of 12 other states from New York to Mississippi — to a rate comparable to the national average of 16 percent. But even ARC concedes the job is not finished, and a look at the numbers shows more work to be done, particularly in Central Appalachia, which includes Eastern Kentucky, southwestern West Virginia, northeastern Tennessee and western Virginia.
In Central Appalachia, poverty remains an issue. While ARC notes that the number of "high-poverty" counties has fallen from 295 of the region's 420 counties in 1965, to 116 in 2000, nearly half of those counties are in Central Appalachia. And while income across the greater region has closed to within 82 percent of the national average, in Central Appalachia, that rate is 68 percent.
'You can't go back'
Mueller remembers the Inez of his childhood as a vastly different place, compared to the "hollowed-out" version he sees today.
"The town was full of businesses," Mueller said. "We had four poolrooms, five restaurants, three or four stores, one dentist, one doctor. Columbia Gas had an office in Inez. You had the courthouse offices and a very limited number of state employees, but you had lots of little gas stations, all of which employed people, and a lot of little country stores, all of which, because there was no Walmart sucking the life out of them, made good livings for those families."
But while the memories of days gone by might present an appealing contrast to today's realities, there is a problem with looking backward, says Morehead State University Innovation and Commercialization Director Johnathan Gay.
"You can't go back, and that's the problem," Gay said. "Rose Bros. in Breathitt County will always be a very small business. I don't know to what extent they lost their market share to Walmart, but those types of businesses lost out to the Walmarts of the area, and that's why they're decimated — the Walmarts and the big stores, which I have nothing against. They offer a service and they sell products cheaper, so that's good for the consumers. I think we have to create something new."
'Chasing smokestacks'
That "something new," Gay and others say, means leaders need to turn away from the strategy of attempting to lure large industrial employers to the region.
"We've got to have a new economic development paradigm," Gay said. "The 'chasing smokestacks' has worked, I guess, to a certain extent in days gone by, but it's certainly not working now."
Mike Vance, director of economic development for the city of Prestonsburg, Ky., agrees.
"With coal and with just the overall economic issues, we're going to have to find ways to move it ahead," Vance said. "And we're probably not going to bring in a Toyota or a Saturn plant, or anything like that. We're going to have to do it by encouraging, first of all, the businesses we have to stay and help make it easier for them, and then to attract smaller, but job-oriented, businesses, outside the service industry."
Vance's past makes him wary of basing a community's economy on a single large employer. He grew up in the city of Wheelwright, Ky., which at the time was, as he says, "the best place to be in Eastern Kentucky." The year he graduated from high school, however, Inland Steel, which operated the coal mines in Wheelwright, decided to move out of the area.
"In '66 — that was, I think, July, my memory is not as good about that date; I remember the year because it was pretty important — that was the year I graduated high school and that was the year the change came," Vance recalled. "It went fairly quickly, in two or three years."
Past experience aside, research also seems to suggest that the strategy of recruiting large employers does little to bring down poverty rates. A 2005 study by Baylor University professors F. Carson Mencken and Charles M. Tolbert II notes that, while development efforts have had the stated goal of economic development, such as addressing poverty, median family income and income inequality, most methods to evaluate progress instead focus on economic growth, such as an increase in the number of jobs, regardless of whether they bring down poverty or not.
"Other research indicates that the federal government facilitates the exploitation of workers in depressed economies through subsidies that bring low-wage jobs to places with high levels of unemployment, thus allowing local elites to exploit local low-skilled workers," Carson and Tolbert write in their report.
And even when communities are able to recruit large, high-paying employers, Carson and Tolbert note that success often does not have a meaningful impact on impoverished residents of the community:
The lack of major effects should not be surprising. Lyson, et al (1993) warn that growth in lagging regions will not bring significant reductions, because the jobs created do not generate enough income per capita to have sustained effects on the poverty rate. Moreover, Bartik (1993) points out that 80 percent of new jobs typically go to new residents. Therefore, long-term residents who are living in poverty may receive some indirect benefit as the new jobs create multiplier effects in supporting industries. However, the multiplier jobs may not pay as well as the new jobs created. Therefore, the impact of the new growth on aggregate poverty rates may only materialize on the margins (i.e., in the form of slight reductions).

— Menchen, F., & Tolbert, I. M. (2005).
"Federal Public Investment Spending and
Economic Development in Appalachia,"
Rural Sociology, 70(4), 514-539.
But even if the focus has been on recruiting large industrial employers, John Rosenberg, founder and director emeritus of Appalachian Research and Defense Fund, a legal aid agency serving 37 counties in Eastern Kentucky, points out that it has not been very successful.
"Where have we chased smokestacks, here?" Rosenberg asked. "Other than in Louisa. What are we chasing after? A number of these counties have built industrial parks, hoping to find some folks. I think we've cleared too many mountains, expecting something to be on them. A few, like Stonecrest, have developed, but there are very few Stonecrests in Eastern Kentucky."
Gay believes economic development efforts to attract large industrial employers are an example of one-size-fits-all thinking, which does not take into account the unique strengths and weaknesses of individual communities.
"I think it's basically been a cookie-cutter [approach to economic development], and I think it's something that's been mostly focused on smokestacks," Gay said. "That's where the energy is. I don't know if that translates to no support or lack of support for entrepreneurs, but it certainly means that our efforts are divided and I don't think we're all playing from the same page."
Growing into prosperity
Instead of concentrating on industrial recruitment, those interviewed say that local, state and federal leaders would be better off supporting small business and entrepreneurs.
"My thinking, for Prestonsburg, anyway, is that success looks like the signs you see coming into town — a good place to live, work, raise your children and play," Vance said. "If we can determine that is going on — and I think it is somewhat right now, we have some people interested in the community — then that would be our success. It's not moving from 4,000 people to 8,000 people, because I don't think we could handle that sort of growth, and it's not having some huge business come in and build a factory. It's having a community people enjoy calling home."
A 2011 study by Heather M. Stephens and Mark D. Partridge lends credence to the notion that entrepreneurship can play a role in developing the region, as long as leaders choose to invest their efforts wisely.
We find evidence that the self-employed contribute to net economic growth in the Appalachian region. Thus, even in remote rural regions, self-employment and the associated entrepreneurial capacity are positively linked to growth.Yet we find no statistical linkage between the number of small businesses and growth, suggesting that the type of business is more important than size.

— STEPHENS, H. M., & PARTRIDGE, M. D. (2011).
"Do Entrepreneurs Enhance Economic Growth in
Lagging Regions?" Growth & Change, 42(4), 431-465.
doi:10.1111/j.1468-2257.2011.00563.x
Stephens and Partridge draw a distinction between entrepreneurship of necessity — when a person starts a business simply because he or she has no other choice — and entrepreneurship of opportunity — where the entrepreneur identifies a need and seeks to fulfill it. Entrepreneurs of necessity, they say, do not contribute much to the economy, whereas entrepreneurs of opportunity can produce real growth.
Gay says that makes sense.
"The challenge with the entrepreneur out of necessity is you're simply recycling money in the community," Gay said. "There's nothing wrong with that, but it's not a growth strategy."
Higher education and the 'brain drain'
Another perceived stumbling block to development efforts has been the so-called "brain drain," wherein more highly educated residents leave Appalachia in search of opportunities elsewhere.
"[T]he key to keeping many of our students from leaving Appalachia is to have 'good' local job opportunities, jobs with a livable wage and prospects for the future, the kind of jobs that foster economic development," Anne B. Pope, then federal co-chair of the Appalachian Regional Commission, wrote in 2006 to U.S. Rep. Eleanor Holmes Norton (Dem., District of Columbia), in response to questions about the brain drain during hearings on the reauthorization of ARC. "All too frequently, young people move away not because they want to leave Appalachia, but because there are not enough available job opportunities locally."
A similar form of emigration from the region was noted in 1965, when the Appalachian Regional Commission was created to deal with the region's poverty. According to ARC, 2 million Appalachian residents left the region in the 1950s, in search of employment elsewhere.
The continued exodus of Appalachian residents is one of the problems ARC has defined in its 2011-2016 Strategic Plan as necessary to tackle, and a 2004 study by Phillip J. Obermiller and Steven R. Howe illustrated that it remains a problem, particularly among the region's most educated.
In terms of net migration, Appalachia became a destination for low-income people with little education and low-occupational status. More people in poverty moved into the region, while those with higher incomes, more education, and higher job status moved out. This was especially true for the Northern and Central Appalachian subregions.

– Obermiller, P. J., & Howe, S. R. (2004).
"Moving Mountains: Appalachian Migration
Patterns, 1995-2000," Journal Of Appalachian
Studies, 10(3), 359-371.
Another study, by James P. Ziliak in Economic Commentary, points out that, while educational efforts have resulted in the region nearly catching up to the rest of the country in terms of high school graduation, the region still lags far behind the country in terms of people who have bachelor's degrees. In 1999, when 24 percent of the U.S. population had college degrees, Appalachia was at 18 percent. In many Eastern Kentucky counties, the rate was closer to 10 percent.
Solving the problem of poverty in Appalachia is complex, but growing evidence suggests that for the region to narrow the gap in poverty relative to the nation, high school and college completion rates must rise. Higher educational attainment translates into a workforce more capable of effectively exploiting modern technologies— technologies that fuel economic growth and development.

— Ziliak, J. P. (2007). "Human Capital
and the Challenge of Persistent Poverty
in Appalachia," (Cover story), Economic
Commentary, 1-4.
Still, Vance says the problem remains that those who seek a higher education often find that they have to leave the area afterward, in order to put their education to use.
"People from here who want a higher level of education can get it, and they can stay here while they're getting it, but then they can't stay here and work," Vance said.
Rosenberg believes the problem is tough to solve in the era of the global economy.
"It's just that we have produced any good alternative economic opportunities for jobs, right?" Rosenberg said. "We just haven't, really, so the result has been that people are leaving. And there may not be an answer for that in the next 50 years, because we're competing globally."
Big Sandy Community and Technical College history professor Tom Matijasic, however, believes the problem can be fixed, and rapidly, if a commitment is made to invest in the right types of education.
Matijasic points out that areas such as Boston and Silicon Valley have become areas of economic opportunity, primarily because they have schools such as the Massachusetts Institute of Technology and the California Institute of Technology have made those places hubs of research and innovation. He says this type of education has been largely ignored in Kentucky.
"What doesn't Kentucky have?" Matijasic asked. "We're one of the few states that does not have a university that is dedicated to technology. There is no 'Kentucky Technical University.'"
Matijasic points out that such a program would be a good fit for the area, because such a school could lead the way in researching new opportunities for Appalachia's energy industries, coal and natural gas. That would lead to more local opportunities for college graduates, which in turn would lead to economic development.
"Here is this big gap, and we're sitting in, what, we're sitting in the coalfields," Matijasic said. "We're sitting in an area that is also extracting a lot of natural gas. We're sitting in an area that is a timber-producing area in Eastern Kentucky.
"And what don't we have? We don't have a university that deals with any of that stuff! That's a big gap. So, if we want to move forward, if we want to do more than mineral extraction, then we have to look to these things as we are educating our young people. And we also have to look to taking those raw materials that we're exporting to the rest of the world and utilizing them here."
Matijasic illustrates his point by noting a conversation he had 10 years ago with a man who had made a business out of buying used mining equipment in the United States, shipping it to South America to be repaired, then reselling it in the United States.
"I'm not sure why we wouldn't have an institution here, I mean literally in Eastern Kentucky, that could train people to repair that mining equipment," Matijasic said. "I understand that our cost of labor would be higher. On the other hand, if you're looking at transportation costs, it should offset it. And I think our skill would be just as great as somebody in Brazil or Argentina or wherever the heck they were sending it."
Matijasic said Kentucky missed out on an opportunity to create a technological research institution, when it allowed the debate over bringing the University of Pikeville into the state system to be decided over issues of funding and service areas. At that time, he says, no one was talking about transforming UPike into a research school. Instead, the debate broke down into haggling over whether folding UPike into the state system would result in Morehead State University losing students or other schools losing dollars.
That was a costly mistake, Matijasic said, because with many Eastern Kentucky counties having only 10 percent of their populations holding college diplomas, compared to the national average of 29 percent, there are more than enough potential students for both schools, particularly if they design programs that complement each other, rather than competing with each other.
"As you're looking at UPike perhaps coming into the state system, that might be the niche it can fill," Matijasic said. "And it won't be stepping on Morehead's toes, because Morehead tends to be geared more towards education and social work and social services."
But Gay — whose employer, Morehead State University, was one of the most vocal opponents of bringing Pikeville into the state system — said that, while Matijasic's proposal is intriguing, he believes the issue boils down more to being about money at a time when state revenues are running short.
"I'd like to see the data behind it," Gay said. "It does sound good in theory. I'm sure the experts can give you 20 reasons why it would be a great idea, and another set of experts 20 reasons why it won't. I think the whole issue of dividing the public coffers. That's what we're stuck on, and it's a zero-sum game to a certain extent."
Thinking regionally, not locally
Those interviewed for "Appalachia 2050″ all agreed that intense local competition among Appalachian counties has hurt the region. Instead, they say, local communities should be working together for the betterment of all.
That belief is borne out in research. In 2010, a study published in the "Journal of Regional Science" by West Virginia University researchers Gebremeskel H. Gebremariam, Tesfa G. Gebremedhin and Peter V. Schaeffer, concluded that, "regional cooperation and geographically focused programs may yield the greatest returns to policy investments."
One implication of this research is that regional cooperation between counties is advisable and may even be necessary for successful economic development policies. … Our results show that neighboring counties can be either competitors or mutually reinforce each other, depending on their specific situation. Because of the fear of competition, and also because of a lack of a history of successful cross-county cooperation, without higher-level government coordination regional cooperation is difficult to achieve, and states need to encourage or create frameworks to make such cooperation possible. The role of the state is particularly important because the results also indicate the presence of agglomeration economies which, combined with the economic weakness of counties with small and dispersed communities, suggests that concentrating public development investments in centers will yield a greater return than treating all locations equally.

— Gebremariam, G. H., Gebremedhin, T. G.,
& Schaeffer, P. V. (2011), "Employment, Income,
and Migration in Appalachia: A Spatial Simultaneous
Equations Approach," Journal Of Regional Science,
51(1), 102-120. doi:10.1111/j.1467-9787.2010.00681.x
But Jean Rosenberg, a community advocate with the Floyd County, Ky., Health Department and wife of John Rosenberg, says convincing cities and counties to work together might run counter to traditional Appalachian values of independence and self-sufficiency.
"We have a long way to go in terms of developing a view that encourages people to participate with each other," Jean Rosenberg said. "We have a very strong and proud tradition of being independent and making it on our own, but in fact, many of these positive things come about when people come together."
Vance, however, says there simply is no other choice but cooperation, if Appalachian communities hope to be successful.
"I do think this regional cooperative stuff has got to happen," Vance said. "I don't think we can look at just what helps Prestonsburg, but what helps the communities around Prestonsburg as well. It may be that that business goes to Pikeville or Paintsville, but our folks can work there."
Gay agrees and says that regional cooperation is Appalachia's greatest need. He says he thinks residents need to transform from basing their identity on a city or county level, to a regional level.
"I see the biggest need is for us to come together as Eastern Kentuckians, and I think people identify more with that," Gay said. "Eastern Kentucky is almost an ethnicity. It really is. People have such a strong identity with the area, but they still cling to those county boundaries and those county ways of doing business. We've got to get beyond that."
Artist and psychologist John Trusty, who previously served as director of the Appalachian Artisan Center, in Hindman, Ky., says such cooperation needs to go beyond government and extend also to nonprofit agencies working to improve the area.
"All of these nonprofit organizations that want to improve life in Eastern Kentucky need to come together," Trusty said. "We need to have a forum. We need to have a conference, where the directors of the arts center in Prestonsburg, or the Osborne family in Hyden who have a music school, the Pikeville friends of art, we should all come together. Let's not just try to develop this in our little community, but let's look at Eastern Kentucky as a family. We're all in this together."
John Rosenberg said cooperation is simply a matter of getting the best from everyone.
"The more people you bring together to think about other solutions, because they're not in my head and maybe not be in yours, but if everybody had a quick fix, we would have already been there," John Rosenberg said. "I think, to me, if we can use education, if we can use the science center, if we can keep kids engaged and do better and always try to be a step ahead with the community colleges, and giving kids an education, that's number one. And number two is trying to create a healthier population, and every little bit helps."